Neuer Style für das Bad – Badewanne raus, Dusche rein in nur 48 Stunden!
11.03.2019
Bad Zwischenahn
Renovierung des Duschbereichs innerhalb von 48 Stunden? Und das ohne viel Lärm, Schmutz und Staub? Markenhersteller und Duschbereichsspezialist HÜPPE belegt mit der Wandverkleidung HÜPPE EasyStyle, dass dies möglich ist.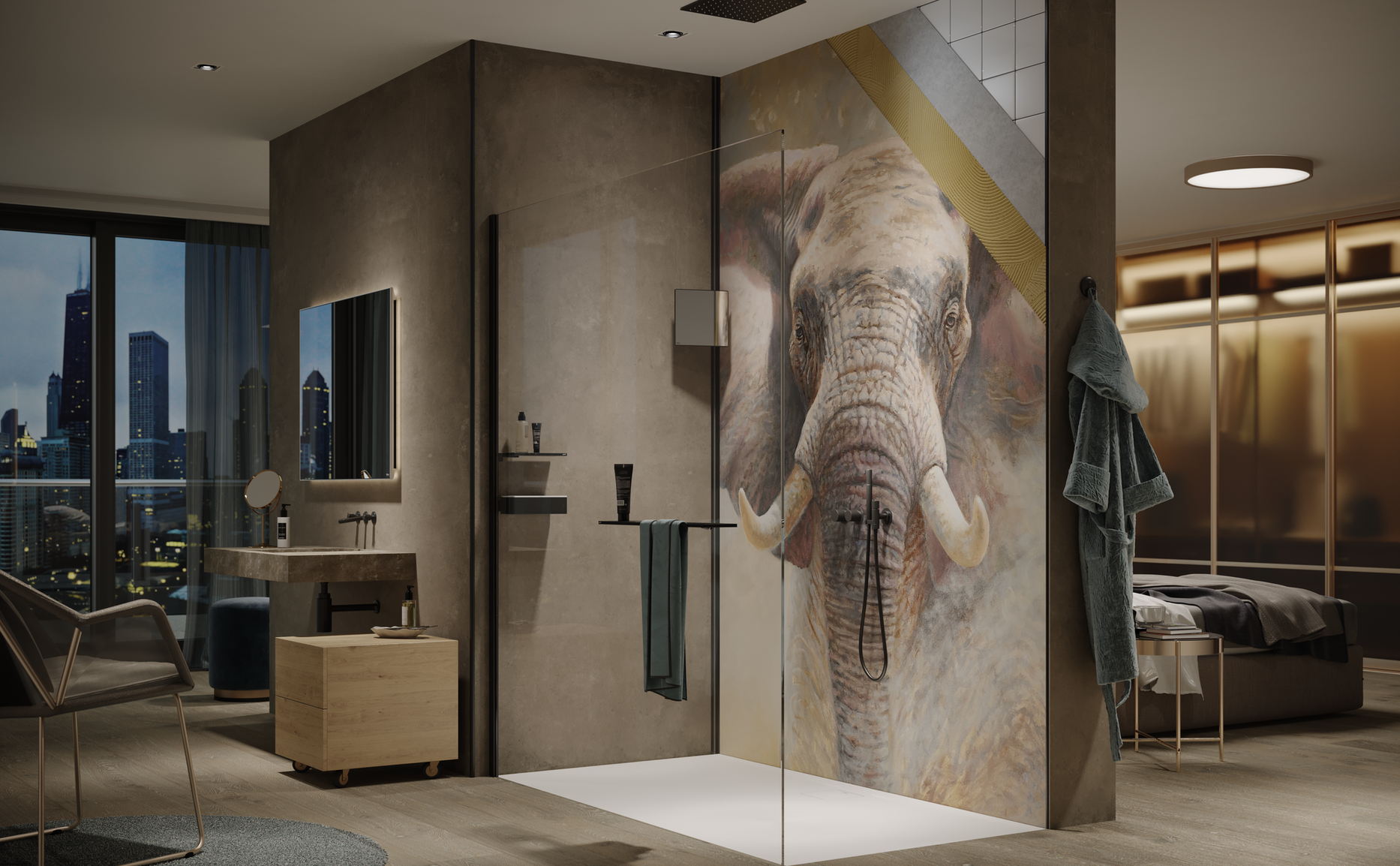 The 3 mm thin aluminium composite panels can be easily applied directly to the old tiles with silicone and adhesive strips or with a surface adhesive. Due to their size – HÜPPE EasyStyle is available in the standard dimensions 1000 x 2550 mm and 1500 x 2550 mm – large surfaces can be created quickly without any tile joints. In combination with the equally seamless HÜPPE EasyFlat shower surface, this ensures maximum hygiene in the shower area.
Design ohne Grenzen
 HÜPPE EasyStyle offers unlimited design freedom. With their warm colours, the decors in the ITALIAN STONE collection look homely and cosy. The realistic stone look gives every bathroom a Mediterranean style. Tiles with geometric patterns or in a marble look are part of Spanish architecture. With the BARCELONA DESIGN collection, this flair draws into the bathroom and gives it a natural vibrancy.
 Whether it's a purist industrial look or warm colours and rustic wood design – the HÜPPE EasyStyle STANDARD decors also give every bathroom a unique design. In addition to the 25 decors in the aforementioned collections, the innovative printing process can be used to produce panels with individual motifs on request. Brand new: the matt white and marble decors now complete the HÜPPE EasyStyle wall covering range.
Fugenlos, hygienisch – unschlagbar!
Die jahrzehntelange Erfahrung in der Herstellung von Duschbereichen nutzt HÜPPE auch bei der neuen Wandverkleidung EasyStyle und weiß worauf es ankommt: Eine einfache und schnelle Reinigung – mit der Oberflächenveredelung mit UV-Lack werden absolut natürliche und plastische Holz-, Fliesen-, Stein-, Textil- oder Betonstrukturen realisiert. Die Dekore fühlen sich täuschend echt an und Schmutz oder Kalk erhalten kaum eine Chance sich abzusetzen. Für die Reinigung reicht schon ein weiches Tuch! Zusätzlich ist die Wandverkleidung EasyStyle natürlich kratz- und stoßfest sowie chemikalienresistent für eine lange Freude am Duschen.